Call Today!
Our dedicated staff will go the extra mile to ensure your satisfaction.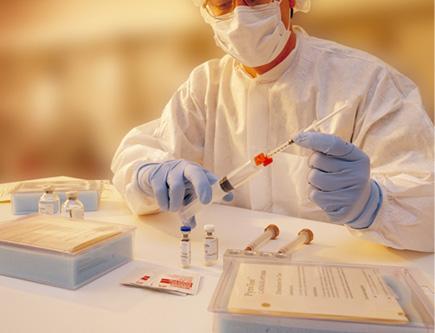 Our Services
At Custom Prescriptions we provide a variety of services which accommodate our range of customers.
---
Compounded Medications
As a nationally recognized leader in pharmaceutical compounding,
Custom Prescriptions of Lancaster, PA
works with physicians, dentists and veterinarians every day to research and develop unique treatment and therapy options for their patients.
WHAT IS COMPOUNDING?
Compounding is the art and science of preparing customized medications.
In every field of medicine, there are some patients who don't respond to traditional methods of treatment. Sometimes they need medication in strengths that are not manufactured by drug companies, or perhaps they need a different dosage form. Pharmacy compounding meets these needs. It provides a way for the physicians and compounding pharmacists to customize an individualized solution for the specific needs of their patients.
Because every patient is different and has different needs, customized, compounded medications are a vital part of quality medical care.
The basis of the profession of pharmacy has always been the "triad," the patient-physician-pharmacist relationship.
Through this relationship, patient needs are determined by a physician, who chooses a treatment regimen that may include a compounded medication. Physicians often prescribe compounded medications for reasons that include (but are not limited to) the following situations:
Medications are discontinued by or generally unavailable from pharmaceutical companies
Allergies to certain preservatives, dyes or binders ;
Dosage strengths for patients with unique needs (for example, an infant);
When the patient cannot ingest the medication in its commercially available form, and a pharmacist can prepare the medicine in cream, liquid or another form that the patient can easily take
Medications that require flavor additives to make them more palatable for some patients, most often children.
Select Retail Products
Rx Skin Therapy Products
Kristen Riddle, PharmD, pharmacist, and creator for U.S. Cosmeceuticals, Inc., developed the line after years of compounding problem-solving products with patients and physicians. She began to manufacture RX Skin Therapy when she saw significant clinical successes.
Today, the line includes 18 products intended to improve the appearance of aging skin. They include cleansers, facial masques and exfoliants, moisturizers, and anti-aging and skin-rejuvenation products.
Because the formulations are science-based and contain medicinal percentages of cosmeceutical ingredients and botanicals, the products are significantly different than most similar products, which often include only trace amounts of these expensive ingredients and botanicals.
Online Refills
Patients can request a refill by clicking
here
.
Compounded Medications for Animals
Pet or animal medications need to be compounded in particular dosage forms to meet the unique needs of each animal. These include pets, exotic animals, reptiles, and zoo animals. Procuring and administering the appropriate medication for your pet can be extremely challenging.
Custom Prescriptions of Lancaster has extensive experience in the compounding of specialized medicines to help veterinarians and animal care specialists treat all kinds of animals.
We prepare medications in easy-to-administer flavored dosages that animals devour. We have developed pet medicine for dogs, cats, horses, birds, reptiles and many other species.
Manufacturers routinely discontinue production of animal medicines and dosage forms which are unprofitable because of low demand. Nevertheless, your pet's sickness or condition might still be helped with such a known compound. Your veterinary formulation may be unavailable or commercially available human medications won't solve your animal's medical problem.
At Custom Prescriptions of Lancaster, we have the knowledge, expertise, and practical experience, using pharmaceutical-grade chemicals, to custom compound unique dosages to speed the recovery and health of your beloved pets.
We can prepare numerous forms of dosage which are perfect for specific animals–from oral liquids to rectal suppositories, from ear drops to dusting powders.
Veterinary preparations that are currently compounded:
Sterile injections
Oral suspensions and pastes
Oral powders and pastes
Capsules
Topical creams, ointments and lotions
Ophthalmic preparations
Otic solutions and non-aqueous suspensions
Transdermals
Chewable medicated flavored treats
Discontinued medications
Flavor specialization
Sugar-free formulations
Combination medications
Customized dosage forms
Research Services
The pharmacists at Custom Prescriptions of Lancaster, LLC recognize the importance of adherence to nationally-accepted standards. All prescriptions are compounded in compliance with established policies, procedures and industry standards, including the Ohio Board of Pharmacy, FDA, OSHA, USP, and newly developed PCAB accreditation standards.
We comply with USP Chapter 795 (Pharmaceutical Compounding – Nonsterile Preparations) and USP Chapter 797 (Pharmaceutical Compounding – Sterile Preparations) which establish practice standards and outline the responsibility of the compounder, selection and appropriate sources of ingredients, quality control, and considerations regarding the stability of compounded preparations.
Also, two additional USP informational chapters are in effect, including, USP Chapter 1075 – Good Compounding Practices, and USP Chapter 1160 – Pharmaceutical Calculations in Prescription Compounding.
Process Validation – Our strict guidelines for the preparation of compounded prescriptions assure uniformity and quality. The final development is examined to provide continuity of quality from batch to batch. We can always track each compounded prescription to determine when and by whom it was prepared, and the lot of chemicals that were used. Preparations are randomly sent to an independent laboratory to ensure the quality of oral, topical, and sterile compounds.
Compounded sterile preparations are tested at independent laboratories as needed for endotoxin, potency, and sterility. Our sterile pharmacy compounding equipment is independently certified on a bi-annual basis. All personnel is certified in aseptic technique.
Finest Ingredients – We use only the highest grade of bulk drug powders and chemicals for custom compounded prescriptions. Certificates of Analysis are available for these pharmacy compounding chemicals.
To develop a custom compounded prescription that will meet a patient's specific needs, Custom Prescritions of Lancaster will:
Research the medical literature for indications, dosing, stability data, and other information
Experiment and perform chemical analysis in the compounding laboratory
Network with colleagues, physicians, veterinarians, dentists, and other health care professionals nationally and internationally to properly formulate a customized dosage form that will solve a patient's medication problem.
Specialties
As a compounding pharmacy Custom Prescriptions has a versatility capable of meeting a diverse spectrum of needs. The topics below are some among the many applications we can provide.
---
Location:
902 N. Duke Street
Lancaster, PA 17602
Hours:
Monday - Friday
8:30 am - 6:00 pm
Address
902 N. Duke Street
Lancaster, PA 17602
Have a Question?
Please fill out the form below to email your questions and comments to us 24 hours a day. A representative will respond to you via email or phone as soon as possible.